Posts Tagged buffalo stance
In 1997, RCA Sweden and legendary writer-producer Max Martin unleashed cute 18-year old popster Robyn on the world, sending flares up international charts with the R&B-tinged '(Do You Know) What It Takes' and 'Show Me Love'. The rest of the world was left to wonder once again how—from Abba to Roxette and The Cardigans—many a Swede has been able to tap in effortlessly to the North American pop sensibility. Further, she was a nordic girl with a measure of genuine soul in her voice. After a few more minor hits in Europe, Robyn disappeared from the world stage as quickly as she had arrived.
Fast forward a decade.
Word of mouth began rippling through the English-speaking world: undefeated by her major-label crash-and-burn, she'd quietly and intelligently risen from the flames. Taking the reigns both creatively and businesswise, she'd honed her songwriting craft with some hot producers and tested a new electro-pop direction locally with singles like 'Dream On'. After necessary alterations, a deftly conceived full-length album—titled, simply, Robyn—followed on her newly christened Konichiwa Records. (The album also kicked off with the braggadocio rap 'Konichiwa, Bitches' — it's Japanese slang for 'Good Day'.)
A further revised version of the album arrived internationally and was supported with exhaustive touring. In concert she gives 110%, with heaps of cover songs along with her extensive canon of self-penned work. Her choice of covers shows a wide appreciation of other artists' work: 'Buffalo Stance' by Neneh Cherry, 'Try Sleeping With A Broken Heart' by Alicia Keys and 'Hyperballad' by Bjork. Why all the YouTube links in this post? Because each one is worth it.
What's special here is not that she's come with great material, or that she put in the grunt work to rebuild the value of her brand from the ground up. It's that she has the rare gift of self-awareness as an artist; the intelligence with which she's packaged and marketed herself.
This year was the best example of it yet. After a couple years of radio silence, late 2009's stunning collaboration with Röyksopp, 'The Girl And The Robot', primed us for a well conceived three-part ambush in 2010. Rather than releasing an album, she presented three shorter EPs. Distilled, the contents of Body Talk, Parts 1-3 would make a solid longplay album. But in an era when digitally downloaded music makes the number of songs on a release irrelevant, by conceiving a flexible new model like this she's found a way to keep the excitement going all year long. Installments arrived in June and September. The final disc is slated for November 22.
Musically, the Robyn formula is smart. By giving us 1 part emotionally-level dance fun ('Handle Me', 'Dancehall Queen', 'We Dance To The Beat') and 1 part pseudo-gangsta attitude ('Curriculum Vitae', 'Don't Fucking Tell Me What To Do', 'Fembot') upfront, we're ready to go the distance with her as her heart bleeds through the remaining third of the material. And this is the material that really sticks: 'With Every Heartbeat', 'Be Mine', 'Dancing On My Own', 'Hang With Me', 'Indestructible'.
Cleverly, the first two EPs also contained acoustic 'preview' versions of the lead-off single planned for the next EP, guaranteeing a boost of familiarity when the single versions of 'Hang With Me' and 'Indestructible' arrived with a Giorgio Moroder-esque thud.
What's also striking is that Robyn, the artist and the businesslady, seems to have captured a demographic few else realized was there for the taking: the 30-something ex-raver that still craves rap and club music but wants something personal, melodic…clever.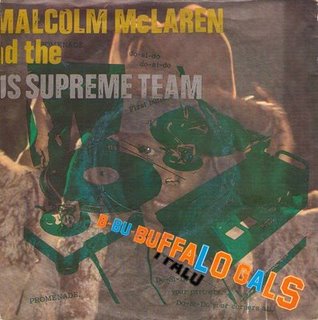 1. In 1982 the Sex Pistols' manager Malcolm McLaren jumped ship on punk by traveling to New York and appropriating elements of cutting edge hip hop culture on a groundbreaking single called 'Buffalo Gals'.
2. In 1986 a British duo Morgan McVey released a painfully cheesy pop song called 'Looking Good Diving.'
3. The duo's Cameron McVey asked his wife, Neneh Cherry, to come in and rap over an instrumental version of the song. That version was released as the b-side, listed as 'Looking Good Diving With The Wild Bunch'.  (She was a member of the Wild Bunch crew, along with members of Massive Attack.)
4. Oddly, Nick Kamen also recorded a version.
5. In 1988 Cherry's rap was salvaged–along with the excellent synth hooks from Looking Good Diving–and parts of 'Buffalo Gals' were scratched in over a new beat to concoct Neneh Cherry's seminal single 'Buffalo Stance'.
6. The song was then remixed to death, in an era when remixing was taking a giant leap. The purpose of a remix had always been to extend a song, perhaps throwing in a little extra ear candy for the dancefloor.  But now that you could load the whole acapella into a sampler and access sections of it at will–as opposed to having to run it off of a linear master tape–total deconstruction became the norm.
Dropping the needle on a single like 'Buffalo Stance', you heard every familiar nuance of the vocal track over an entirely unfamiliar backdrop…structure, chords and rhythms entirely re-imagined.  It took three 12″ singles and one 7″ single to squeeze all the juice out of this track.  It was as though the remixers tag-teamed, sampling elements of each others' versions and riffing on them further.
Below are a series of excerpts: the classic benchmark '12" Mix' which was the long version of the original Tim Simenon production; the Dynamik Duo's sparse 'Sukka Mix' containing all kinds of gritty vocal outtakes; Arthur Baker's '1/2 Way 2 House Mix' which placed the vocal over a mellow house-ish groove before moving on to an abstract collage of vocal samples; Kevin Saunderson's crunchy 'Technostance Remix I' which sort of encapsulated samples of the original version in between dubby loops; and finally Massive Attack's bizarre disco take entitled 'There's Nothing Wrong Sukka Mix'.
7. In 1990 George Michael got his fingers in the pudding by releasing a remix of 'Freedom 90' that combined vocals from his original song with his own rendition of Soul II Soul's 'Back To Life'. In re-singing it, he lovingly emulated Caron Wheeler's every phrase. The mix also contained a sample of the fiddle riff from Sinead O'Connor's 'I Am Stretched On Your Grave' and a re-created loop from 'Buffalo Stance' (the 'Buffalo Gals' scratches and his rip of Neneh Cherry's 'Get Funky'). This 'remix' (or medley, as it would more accurately be called, since he took this opportunity to sing portions of peoples' songs) felt like a synchronistic experience for me as those particular songs he chose to combine had all been huge for me that year.
What fascinates me about this evolution is not just the multiple levels of cut-and-paste that went on through these productions, but the fact that this exposes a clear example of the sort of rewriting/rethinking that sometimes must happen before a song hits its apex.  Cherry's rap on the b-side of 'Looking Good Diving' isn't the fully realized version of the lyrics she went with on 'Buffalo Stance,' and neither is her confidence in place, yet, vocally.